100% Organic Honey - Honeydew
Regular price

Sale price

£8.50 GBP

Unit price

per
Raw Honeydew ( world wide knows as forest honey ) is a type of honey made from tree sap, a sticky liquid with a composition somewhat similar to that of nectar, which serves as a food source for small insect species such as aphids.
These insects eat the sap and remove a sticky substance,, called Resin,, on the leaves, branches or even on the trunks of trees then the bees collect this resin for honey production.
Just as flower honey can be monofloral or polyfloral, so honeydew can be made from the sap of one or more species of trees.
The most productive and popular tree species include fir, pine, oak, willow, poplar, plum, beech and peach.
In general, it tends to be darker in color, has a strong flavor profile and medium sweetness. Honeydew honey commonly has a strong and distinctive aroma that can be resinous, piney, herbal, or malty.
Typically honeydew have lower levels of glucose and fructose and higher levels of complex sugars due to the extra enzymatic actions in the sap sucking insect's gut. 
As all our products, the raw honeydew is unpasteurized and unfiltered so retains all its delicious healthy nutritional properties.
Health benefits:
Excellent natural antibacterial

Natural remedy for gastritis

Improve skin health

Natural remedy for cough and sore throat
Raw Honeydew has a low fructose content and can be consumed even by diabetics. It is recognized for its superior therapeutic effect, including antimicrobial action.
Color is an indicator of a high content of antioxidants, especially polyphenols, flavonoids, but also carotenoids and other types.
Honey can help in common cases of health problems (colds, flu and other respiratory tract infections), hypoglycemia, fatigue, gastritis, or other digestive problems.
Due to the prebiotic effect, honeydew improves digestive health, improves transit time and even nutrient absorption. It also has a mild laxative effect helping with constipation.
Tips: Store your honey in a cool, dry place. Keep in mind, it's a natural characteristic of raw honey to set (crystallize). Should crystallization occur, gently warm the jar in hot water.
State: Runny 
Origin: South West Romania, Danube region
Country of Origin: Romania
Share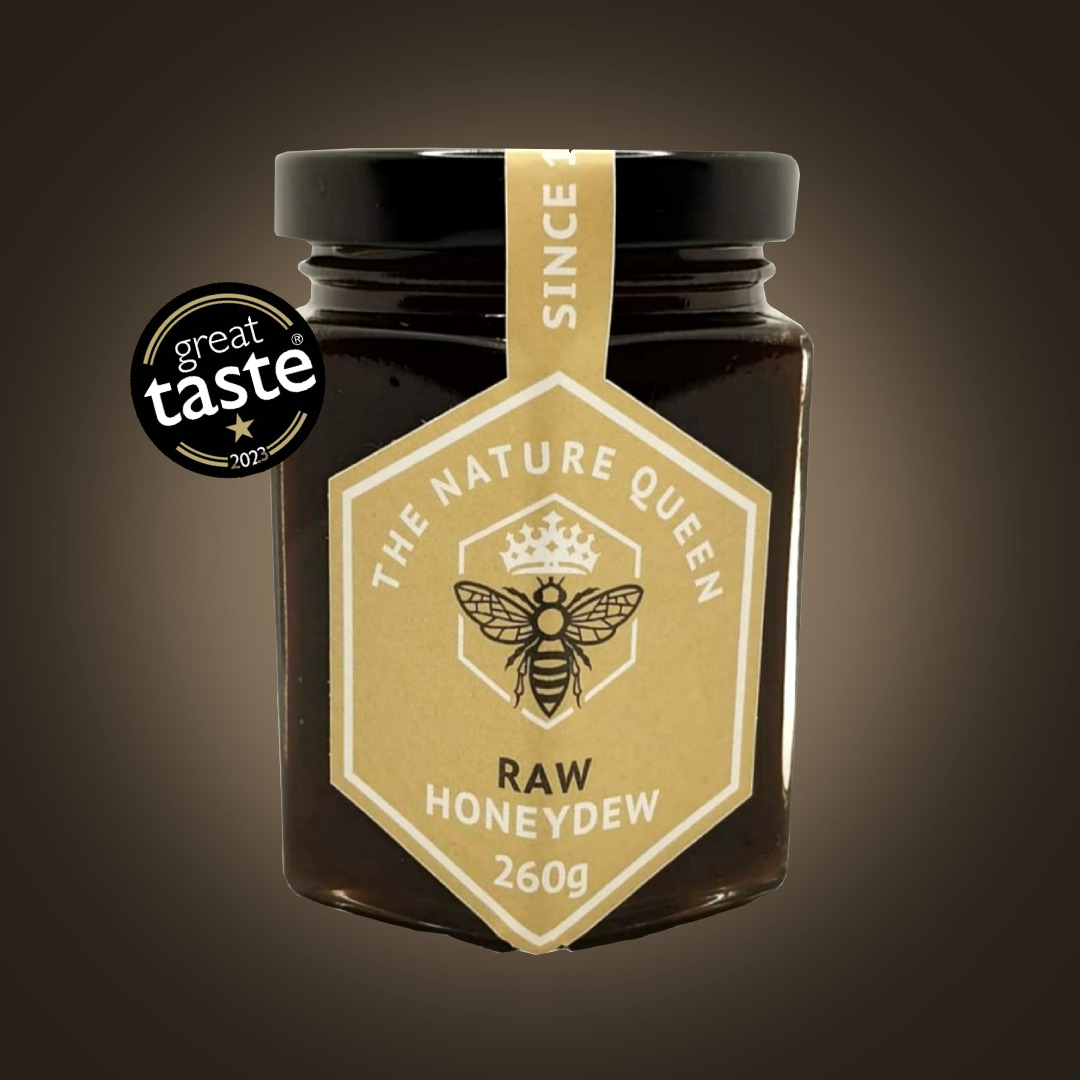 My favorite honey
I first bought this from a farmer's market in Greenwich while on vacation. I wish I would've stocked up because it's the best honey I've had. Like others have said, it's velvety smooth, sweet and flavorful. We eat it right out of the jar sometimes.
With love from the U.S.
Nice honey with Healthy benefits
Get this honey for my wife, for her immune system. The says it help so we try it. And taste nice
Yummy buy this honey
I came across this honey at Grenwich Market and what a find. Now getting supply for the rest of the year. Everyone loves it. Enjoy
Exelent product
The taste of honey is velvety, smooth with tint of propolis and bee wax. No sugary after taste. This is the best honey of all what we had. Presentation and delivety are exelent! Happy customer Natalia
I really like your honey👍