100% Organic Honey Selection - 3x 260g
Regular price

Sale price

£20.50 GBP

Unit price

per
Are you looking for something delicious from nature? The Nature Queen honey selection allows you to try all of the nutritious and delicious varieties bundled into one package. Whether you're purchasing this for yourself or as a gift for someone who adores raw honey, you can't go wrong! 
Selection Of Our 3 Delicious Honey's
Acacia Honey
Honeydew Honey
Rapeseed Honey
 Why Acacia ?
Acacia honey is a mono-floral honey, obtained exclusively from the nectar of acacia flowers. It is colorless or slightly yellow and has a specific aroma of acacia flowers.

The color of Acacia Honey is crystal clear, slightly yellow or greenish in some vintages.
It's pure flavor and aroma makes it unique, taste sweeter than most honey, while its acidity is lower.
Raw Acacia Honey is rich in fructose, so it's crystallizing slower, stays runny for 1-2 years.
Acacia honey contains water, carbohydrates, proteins (of which 12 amino acids such as leucine, methionine), minerals (calcium, copper, iron, magnesium, manganese, potassium, sodium, silicon, sodium, sulfur), vitamins (B1, B2, B6), folic acid, enzymes, other aromatic substances as pollen grains & antibiotic factors...(read more)
Why Honeydew ?
Raw Honeydew ( world wide knows as forest honey ) is a type of honey made from tree sap, a sticky liquid with a composition somewhat similar to that of nectar, which serves as a food source for small insect species such as aphids.
These insects eat the sap and remove a sticky substance,, called Resin,, on the leaves, branches or even on the trunks of trees then the bees collect this resin for honey production.
Just as flower honey can be monofloral or polyfloral, so honeydew can be made from the sap of one or more species of trees.
The most productive and popular tree species include fir, pine, oak, willow, poplar, plum, beech and peach.
In general, it tends to be darker in color, has a strong flavor profile and medium sweetness. Honeydew honey commonly has a strong and distinctive aroma that can be resinous, piney, herbal, or malty.
Typically honeydew have lower levels of glucose and fructose and higher levels of complex sugars due to the extra enzymatic actions in the sap sucking insect's gut...(read more)
Why Rapeseed ?
Rapeseed honey is a mono-floral honey, obtained exclusively from the nectar of rapeseed flowers. It has a smooth and creamy texture and a yellowish hue, sometimes even whitish. It has a delicious taste. This type of honey is preferred by many honeyeaters because it is not very sweet and has very low acidity with Ph 3.5-4.5.
Rapeseed honey crystallizes quickly, it can crystallize even inside the comb and cannot be extracted anymore, it also called by beekeepers as "cement honey".
Rape honey is collected in May, is one of the first honey harvest of the year...(read more)
Origin: South West Romania, the Danube region
Country of Origin: Romania
All our products are unpasteurized and unfiltered so retains all its delicious healthy nutritional properties.
Tips: Store your honey in a cool, dry place. Keep in mind, it's a natural characteristic of raw honey to set (crystallize). Should crystallization occur, gently warm the jar in hot water.
Share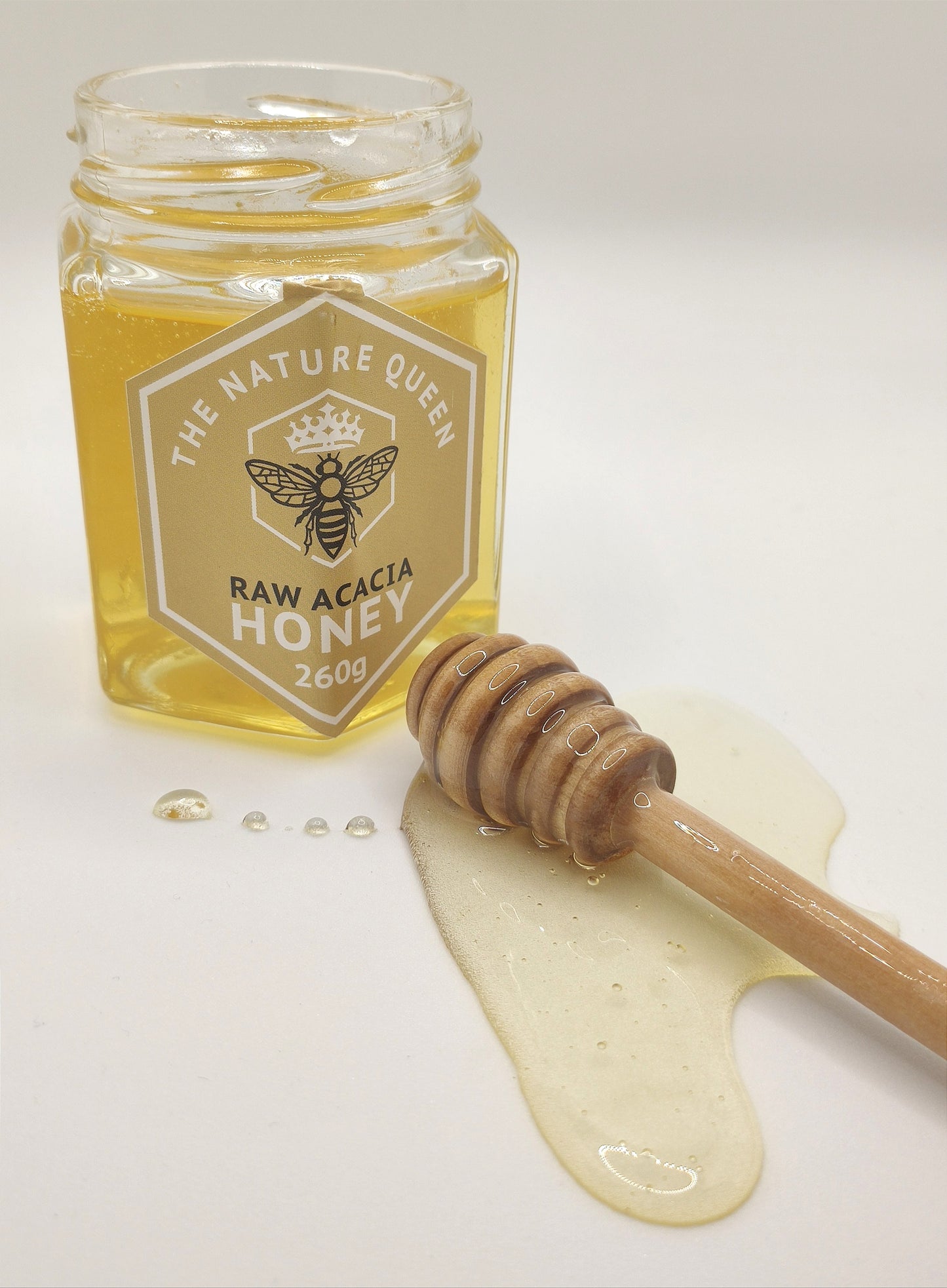 100% Organic Honey Selection - 3x 260g
100% Organic Honey Selection - 3x 260g
really quality outstanding
i am very pleased with the quality/ fast delivery/ price
you really get what you are paying for and is worth every drop
thank you for my gift as well!!!
Unique product and fast delivery
Arrived very quick and the honey is unique..
Im not gonna say much, highly recommended product!!!
Great quality!
Simply word... delicious.
Really, really good and tasty.
Cannot wait for bigger jars to buy!
Fast delivery! ❤